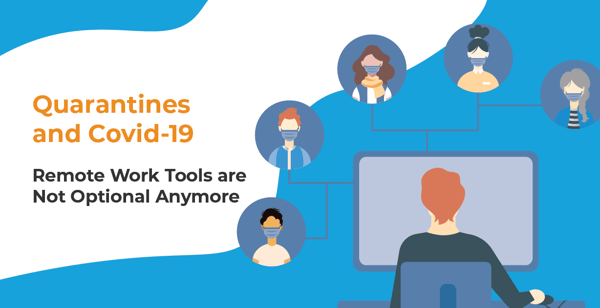 With the spread of COVID-19, entire cities and countries have been placed under quarantines, restricting their citizens' travel within their countries and abroad. While the response to COVID-19 has been likened to the SARS outbreak in 2003, a critical differentiator is that our societies have become so much more interconnected -- at a price. Pandemics such as COVID-19 are now capable of disrupting global economies, so how can organizations and businesses adapt in the face of disrupted global travel and quarantines?

The answer is remote work.
How Do I Build a Remote Working Platform for my Organization?
While organizations have the choice to use an off-the-shelf platform to host video conferences, building a tailored video platform that meets their current and future needs has become more economically viable through the use of commercial SDKs (software development kits). These live video SDKs enable organizations to build tailored platforms with the knowledge that a developer community is readily available should they require any additional development support.
If you're considering the off-the-shelf route, there are several mission-critical questions to consider for your live video component before selecting the perfect fit.
Can the platform seamlessly integrate with your existing business processes and workflows?
Can your platform meet the security and data storage requirements as set forth by your industry?
Can the solution support all the legacy and modern browsers, devices, and hardware that your employees and/or clients use?
Will your remote workers and clients reliably and easily be able to access video meetings without the need to download or install plugins?
Can the platform handle networks of all kinds, including slower ones in remote locations?
Your answers to these questions are likely to be unique to your specific use case and influence how you develop, build, and launch a video-conferencing application with flexible live video SDKs. These questions will take time to unpack, but are ultimately crucial and will provide your organization with a clearer understanding of how your video conferencing tool will support remote workers.
Why Should My Organization Invest in a Live Video Conferencing Platform?
Since COVID-19 has spread across the globe, many companies such as Apple, Google, and Microsoft have encouraged their employees to work from home when exhibiting any symptoms to minimize the spread of disease.
Most of these companies have pre-emptively established remote working communication tools, providing their employees with the ability to text, voice, or video chat with their team and clients remotely. With such a tool, organizations can keep teams fully operational during travel disruptions and quarantines, minimizing loss of productivity and revenue.
Features Every Remote Work and Video Conferencing Platform Should Have
From all the companies we've worked with to develop video conferencing solutions, we've identified a list of seven key features they were most likely to request.

Integration with Meeting and Appointment Schedulers - The live video conferencing platform should seamlessly integrate with the meeting schedulers and appointment systems used by your organization.

Document Sharing - Document sharing should be encrypted end-to-end, not stored during the transmission on an intermediary server.

Integration with Notification Systems - The live video conferencing platform should be able to integrate with internal notification systems such that employees can receive notifications instantly across the devices they use and do it on any network.

Session Recordings - Managers, employees, and clients should all have access to session recording capabilities that provide the choice to record and archive the audio and video streams of one or more participants.
Screen Sharing - Users should be able to share screens across all devices, browsers, and hardware and effectively collaborate internally and externally.

Cross-platform - The video conferencing platform should work on every device, browser, and type of hardware that clients and employees will use.

Session Analytics - Users and managers should be able to view real-time and historical call telemetry. This way, they can gain immediate insights as to how their calls are behaving with the receiver and compare the results to previous sessions.

Maximizing the potential advantages of live video conferencing requires platforms to be capable of integrating with existing notification, meeting, and appointment scheduling systems. Features such as cross-platform screen-sharing, encrypted document sharing, and access to live call analytics and recordings all lead to smarter, more productive video conferencing sessions.
Conclusion
Remote work is not an option anymore. The COVID-19 outbreak emphasizes how critical it is for organizations to have remote work tools and systems in place. With flexible live video solutions that promise ultimate tailorability and unparalleled platform interoperability, organizations can create ideal remote working tools that keep teams fully operational during unprecedented times such as this.