LiveSwitch is Getting Even More Flexible Soon. Here's a Sneak Peek.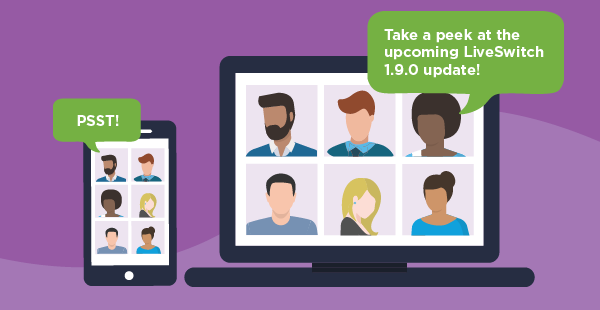 In these unprecedented times, many organizations are scrambling to find better ways to operate remotely and to develop video conferencing apps that do more for them than what Skype, Zoom, or similar platforms can do out of the box.
At LiveSwitch Inc., we've been quite busy lately accelerating our product roadmaps to ensure clients receive the best possible video conferencing features, functions and capabilities with LiveSwitch. Let's take a look at the upcoming LiveSwitch update that will make enterprise-class video conferencing in large groups even more accessible than ever before.
Improved Video Quality For All Bandwidth Scenarios
While simulcast has been available in previous versions of LiveSwitch, this upcoming release provides a powerful new feature for developers we refer to as adaptive simulcast.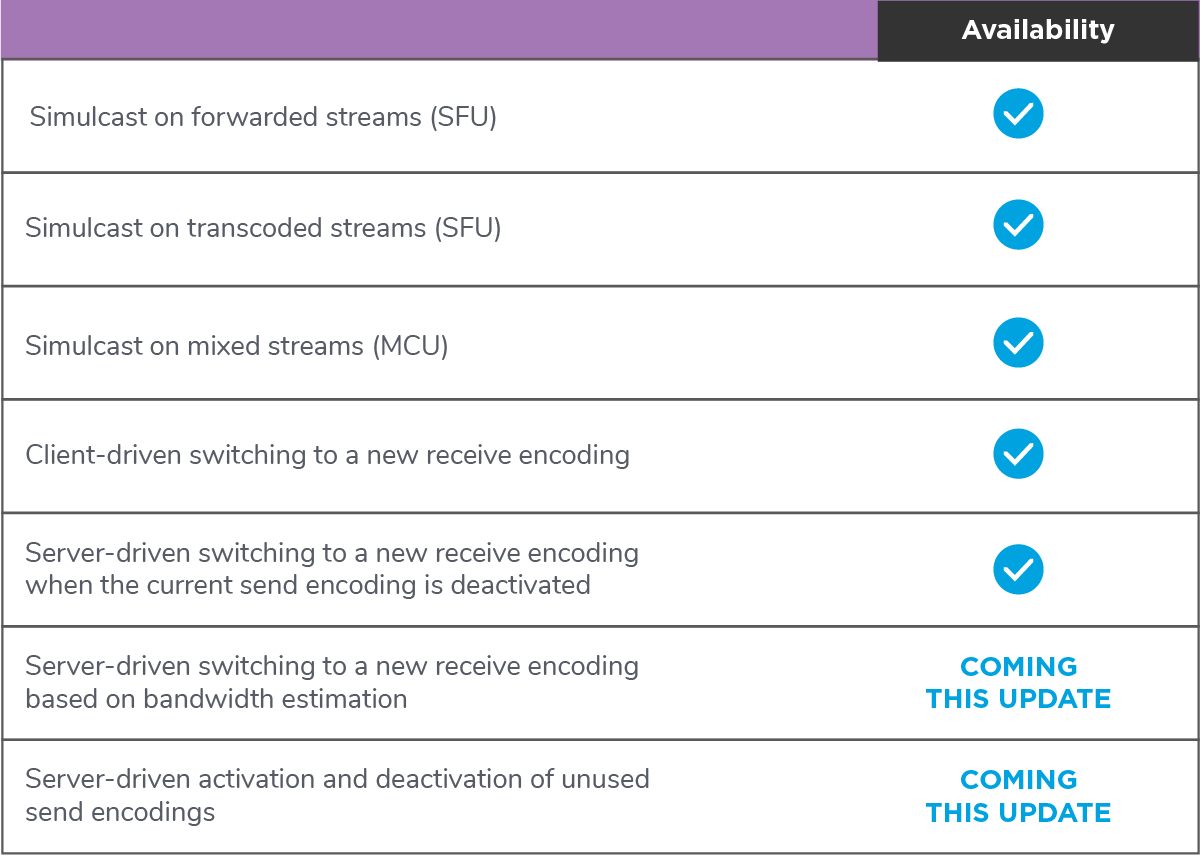 Simulcast Feature Matrix
LiveSwitch 1.9 will include new bandwidth adaptation capabilities that allow LiveSwitch media servers to intelligently activate and deactivate unused encodings and streams during a video call. Working in tandem with automatic bandwidth estimation, this dynamic, real-time switching will ensure video qualities remain tailored to a participant's network conditions. Connected clients will see a reduction of packet loss and media servers will see reduced load and network usage, therefore enabling participants to enjoy the best quality video stream that their network's bandwidth can handle.
Developer Note: This version of Simulcast is disabled for 1:1 calls, and can be enabled for larger calls with a single line of application code.
Default: SimulcastMode.Disabled
To Enable Simulcast: videoStream.setSimulcastMode(SimulcastMode.RtpStreamId);
Why This Matters
As remote work tools and teleconferencing solutions become widely used in these challenging times, improving video streaming connectivity for participants located in rural or remote locations becomes even more vital. Video conferencing applications that are built to dynamically accommodate varying bandwidths and network conditions empower even the most rural and remotest of participants - and keep them connected.
2. Reduced Battery Consumption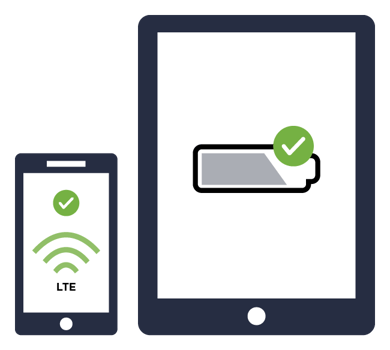 The upcoming updates to LiveSwitch will offer client applications the ability to reduce battery consumption by receiving and decoding only the streams it is able to handle reliably. When enabled, adaptive simulcast in LiveSwitch 1.9 will only provide the session's participants with the highest quality streams it can handle without packet loss and turn off encoding layers when not in use. This is important because it reduces the need for the broadcasting client to use higher quality CPU-intensive encodings or to process multiple encoding layers within the SFU when participants are not using these streams. Instead, bandwidth estimation and adaptive automatic simulcast will identify the best send encodings for each participant scenario and adjust streaming bitrates based on that information.
Why This Matters
Client applications using LiveSwitch will be able to, more than ever before, host sessions that better allocate CPU resources. Streaming participants can much more easily receive video in the quality that works for their network and session hosts can send streams at lower bandwidths. This benefit extends to preserving the battery life of devices participating in video conferences on low bandwidth networks that would otherwise interrupt the user's experience and enjoyment.
Improved Scaling Capabilities with Simulcast
When large session sizes cause media servers to reach their maximum connection capacity, connectivity errors can ensue if a robust scaling strategy is not available. These connectivity issues generally cause participants to encounter less than optimal experiences including potential drop in video quality, disconnection, or even being unable to join a session entirely.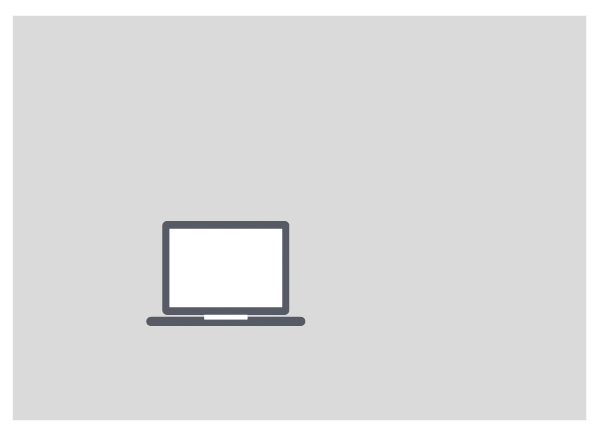 With the LiveSwitch 1.9 update, developers will be able to build intelligent infrastructure scaling strategies that can temporarily leverage adaptive simulcast across all video connections when media servers reach maximum network or CPU capacity. Lower bandwidth encodings can be deployed to all participants and thus reducing bandwidth and CPU usage, allowing additional participants to join in while additional media servers spin up to handle the extra connections, which will, after completion of scaling, ensure that video sessions can return to original quality levels.
What This Means
Participants connecting with LiveSwitch-based applications will experience fewer disconnections and connectivity failures when media server capacity has been reached.
Setting A Standard for Security
Client applications running LiveSwitch have enjoyed the longstanding benefits of TLS 1.2, including using more secure hash algorithms such as SHA-256 and advanced cipher suites. The upcoming LiveSwitch update will see to it that TLS 1.1 is depreciated for good, with TLS 1.2 as the new required standard -- a move we're making in sync with the big players (Google, Apple, Microsoft) and their decision to phase out TLS 1.1 and 1.0 in 2020.
And that's a wrap!
The upcoming LiveSwitch 1.9 update will make conferencing in large groups more flexible than ever before. You'll see major improvements in video quality under all bandwidth scenarios, a reduction in battery consumption, better stability when media servers reach maximum capacity in a session, and increased hardening of security with mandatory TLS 1.2. And best of all, LiveSwitch Cloud customers will be able to enjoy all of these server-side features without lifting a finger.