Build or Buy: Why GuruMD opted to build their Telemedicine Video Conferencing App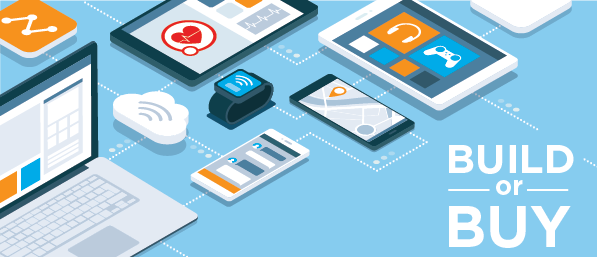 When Texas natives, Clinton Osborn, MD, and Kassey Osborn, FNP-C, decided to launch GuruMD, a virtual medicine platform, they faced the same sort of questions that face so many telehealth pioneers. Should they build their own telehealth platform or is it better to buy a off-the-shelf virtual clinic platform, a type of a Platform as a Service (PaaS)?
The build or buy decision can be a difficult one. Ultimately, for GuruMD the answer came down to these key considerations:
Telemedicine Industry Growth
Telemedicine, as we know it today, is in a rapid adoption phase and as such, is in constant flux. Successful telehealth programs need to be able to grow and change with the industry and the organization. GuruMD wanted a system that would allow them to build their workflows their way and be agile enough to change with the industry.
Product Ownership
With a PaaS option, ultimately, you do not own the product, the vendor does. As a result, you do not have control over their future development priorities. This means that if there is a feature or a telehealth workflow that you want to add, you are often at the mercy of the vendor. Some vendors may allow you to pay to have features added but these changes often come at a premium.

For some telehealth businesses, this lack of complete ownership may not be a huge concern - especially when weighed against the incremental complexity of building your own platform. If your business model requirements and patient workflows are fairly straightforward, a simple off-the-shelf solution may make sense. But for GuruMD, ownership was a major consideration
Device Compatibility
Overcoming issues of access to care is of the utmost importance to all telemedicine providers. In today's technologically driven world, it can be difficult to build a platform that is compatible with all browsers and devices. GuruMD chose to create an application that was usable on all major browsers and devices, resulting in an expanded range of potential business opportunities and patient experiences.
Budget Limitations
As with all start-ups, overall project costs were a determining factor in GuruMD's build or buy journey. They needed a solution that would provide them with the flexibility they desired, within a budget that made sense. While Telehealth PaaS providers can speed up time to market and may provide lower upfront costs, their products often come with subscription fees that can elevate costs over the lifecycle of the business.
Competitive Advantage
GuruMD's business model is based on providing unique and personal patient experiences. They knew that if they were to use the same PaaS product as their competitors, it would be more challenging for them to differentiate themselves from other competitors in the industry.
"We needed the ability to cater to our patient's specific needs rather than a 'cookie cutter platform' with limited versatility and customization," remarked Dr. Clinton Osborn.
The decision to build
After evaluating all of their options, the GuruMD software team decided that building their own platform made the most sense. They knew they needed additional help to provide the HIPAA compliant synchronous video conferencing they were after, so they began researching web-real time communications (webRTC) solutions.
"I knew that video quality would make-or-break our application," said Dr. Clinton Osborn
"I consulted with some friends in the audio/video industry and they were the ones who turned me on to LiveSwitch Inc. I had a meeting with one of the owners of LiveSwitch Inc. and was very impressed by his level of knowledge and understanding of my business needs. LiveSwitch Inc. struck me as a very forward thinking and progressive company. In that way, I felt our goals were aligned."
They decided to purchase the IceLink™ SDK from LiveSwitch Inc. and integrate it within the platform their developers were building. The SDK's video quality, one-time licensing cost, and powerful Application Programming Interface (API) were major selling points for them. Having one highly flexible API allowed their team to build a platform that caters to patients on all platforms, browsers and devices, while also providing endless customization opportunities. Additionally, as their business grows and new patient engagement concepts emerge, their choice to use the IceLink™ SDK positions them well to migrate to the advanced multi-party capabilities available in the LiveSwitch™ SDK.
"By utilizing the LiveSwitch Inc.'s SDK, we are able to deliver a close to real-life virtual medicine encounter that blows the off-the-shelf solutions out-of-the-water. For us, the cost vs. benefit ratio just made sense and our patient satisfaction proves that building was the only way to go," said Dr. Clinton Osborn.